Some antique carpet and textile highlights at Rippon Boswell's 30 November 2013 auction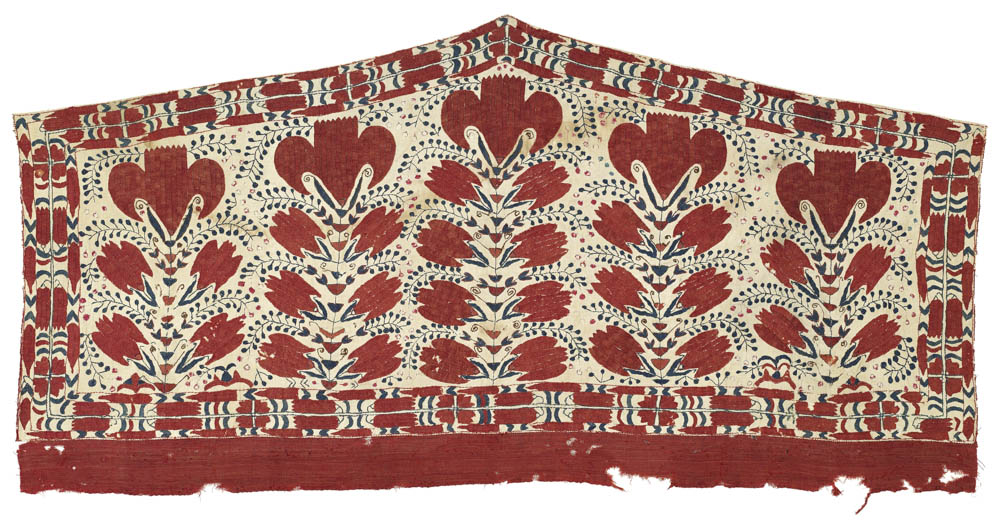 The Friday afternoon viewing on 29 November 2013 was rather less well-attended than for past sales, but by the opening of the auction on the afternoon of Saturday 30th November, Rippon Boswell's  Friedrichstrasse saleroom in Wiesbaden was reasonably full. Our impression, confirmed by auctioneer Detlef Maltzahn, was that bidding in the room was stronger than at recent sales for pieces at the lower end of the price range  –  there were a number of extended competitions at €100 and €250 increments. However, as prices rose the competition was increasingly on the phone, sometimes as many as four in action, with US private collectors featuring among the strongest bidders. Although the gross yield was not especially high, around 60% of lots sold, a far higher proportion than in recent sales, and many of the major lots either sold successfully, or provisionally subject to after-sale negotiation, which added at least another 10% to the total.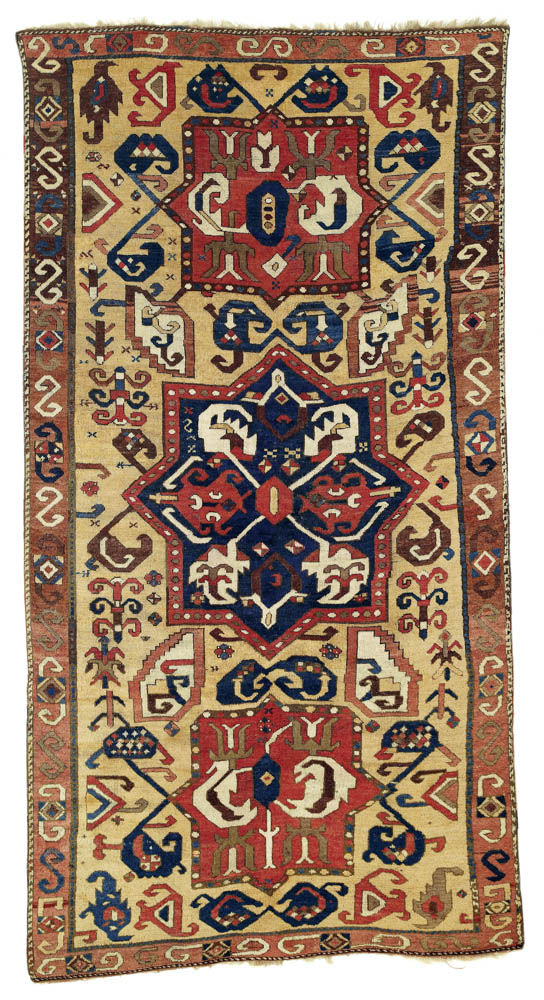 With lot 149, the black-ground Azerbaijan embroidered roundel from a private German collection still under negotiation at a sum well below a rather ambitious €95,000 estimate, top lot on the day was, appropriately, lot 38, the well-provenanced 17th/18th century Grote-Hasenbalg/Cassirer east Anatolian carpet with three bold octagon-star medallions on a yellow ground, which sold to a US buyer on the phone for €73,200 (including 22% commission). Two other Azerbaijan embroideries were also on offer – lot 131 was a successful after-sale at €20,000, and lot 26 went below estimate for €9,516.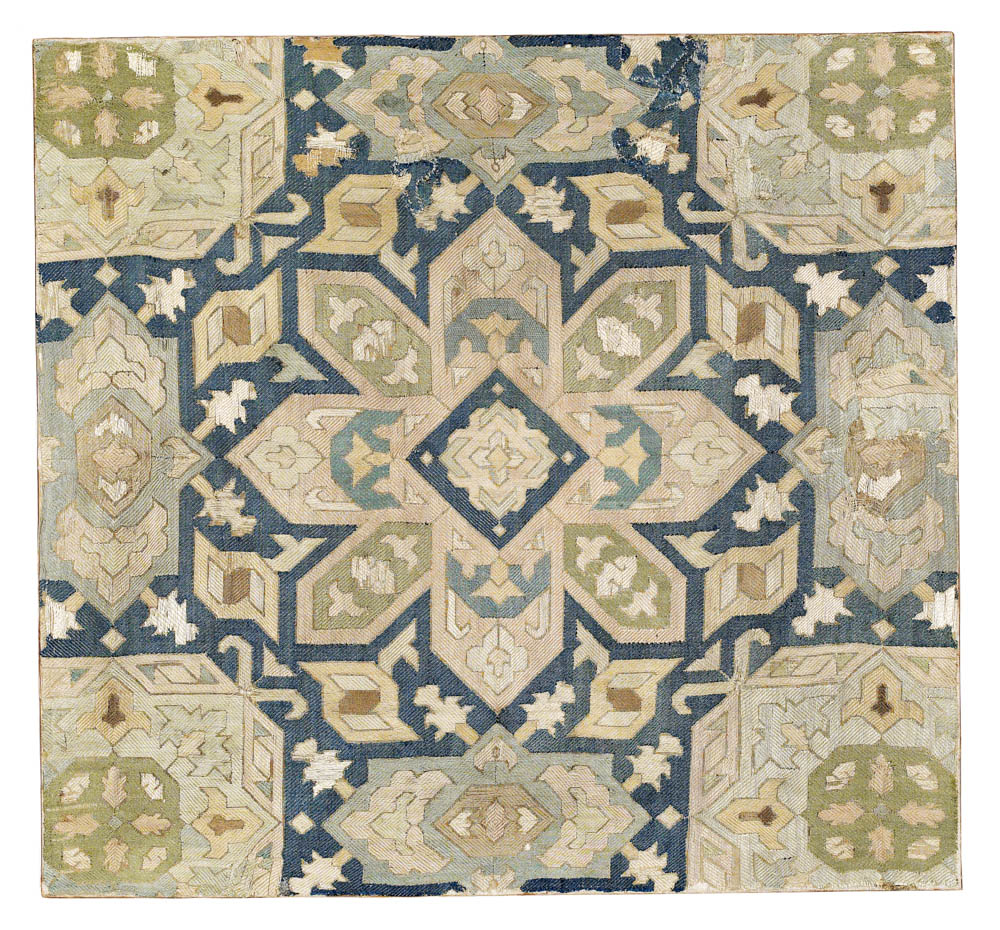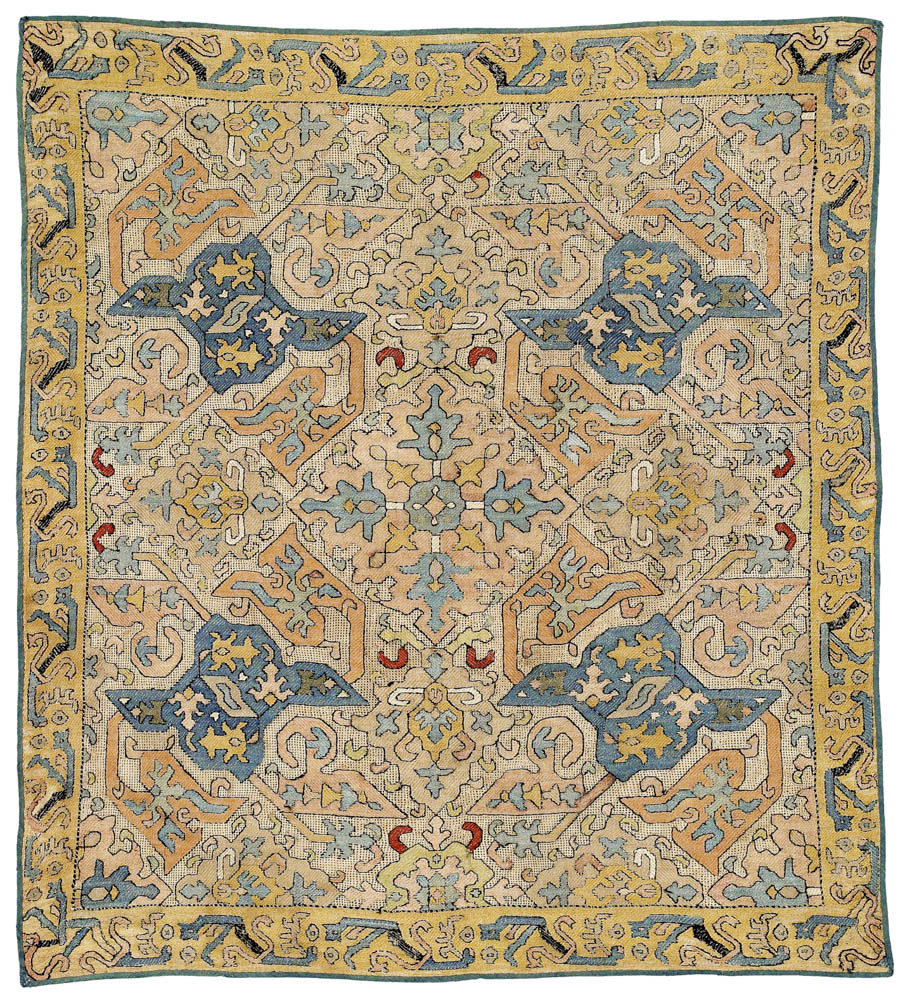 Other sold highlights included some spectacular Turkmen pieces. Lot 192, the Eagle-group trapping from an American collection, published in 1980 by Mackie and Thompson, fetched a healthy €37,820; lot 100, a Salor trapping, similar to lot 150 from RB's autumn 2011 sale, but smaller and in less fine condition (lower pile, corroded silk), went to the US for €20,130; lot 96, a Tekke chuval with velvety pile in mint condition and very saturated colour sold for €12,200. A fabulous Tekke embroidered five-sided asmalyk (wedding camel trapping), lot  122, to some eyes the 'best of show' in the  sale, also went Transatlantic for a bargain price of €19,520.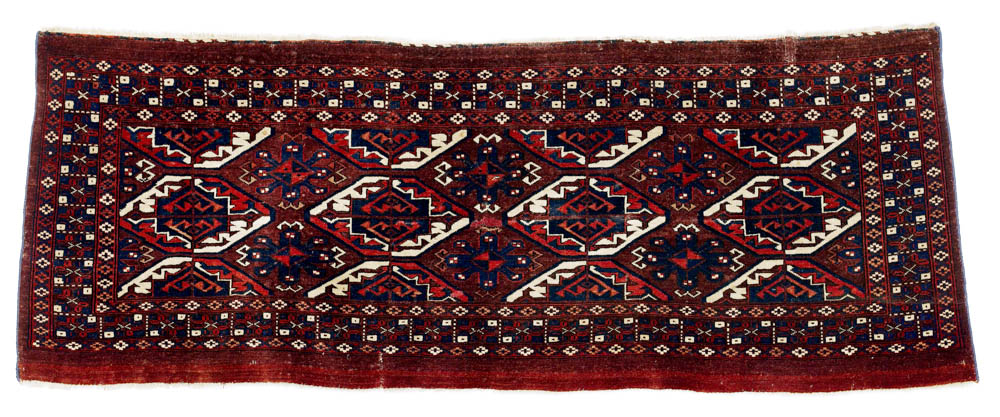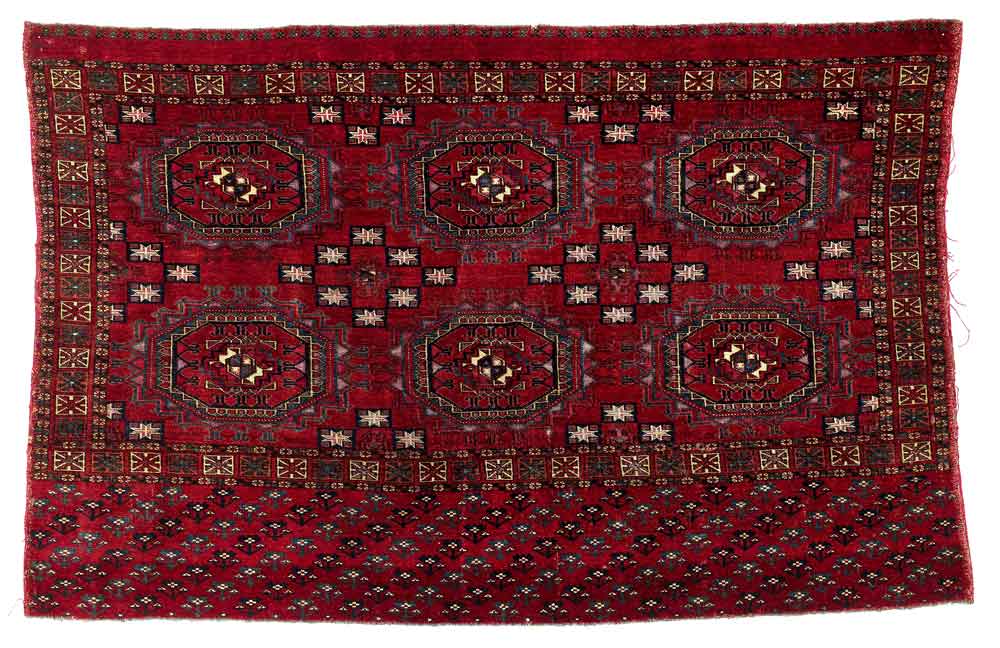 A very handsome classic  'four-and-one' Shahrisyabz suzani embroidery, lot 159, sold for €41,480. Another favourite among the suzanis, lot 141, a Bukhara with lovely colour and a lively design, sold for €7,320.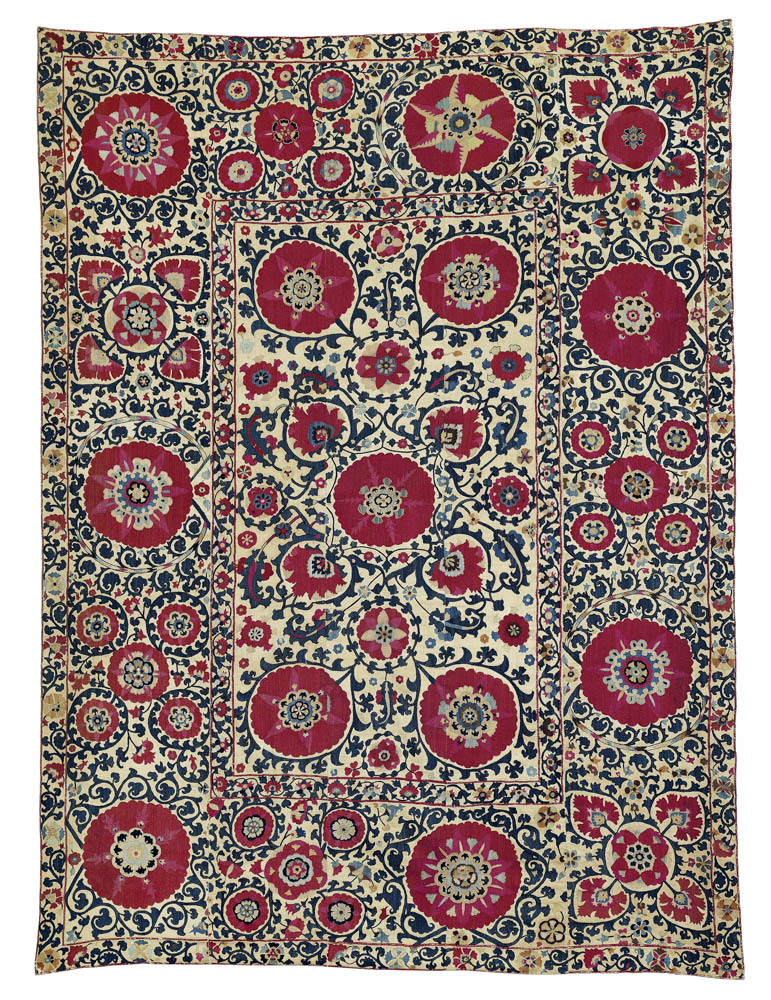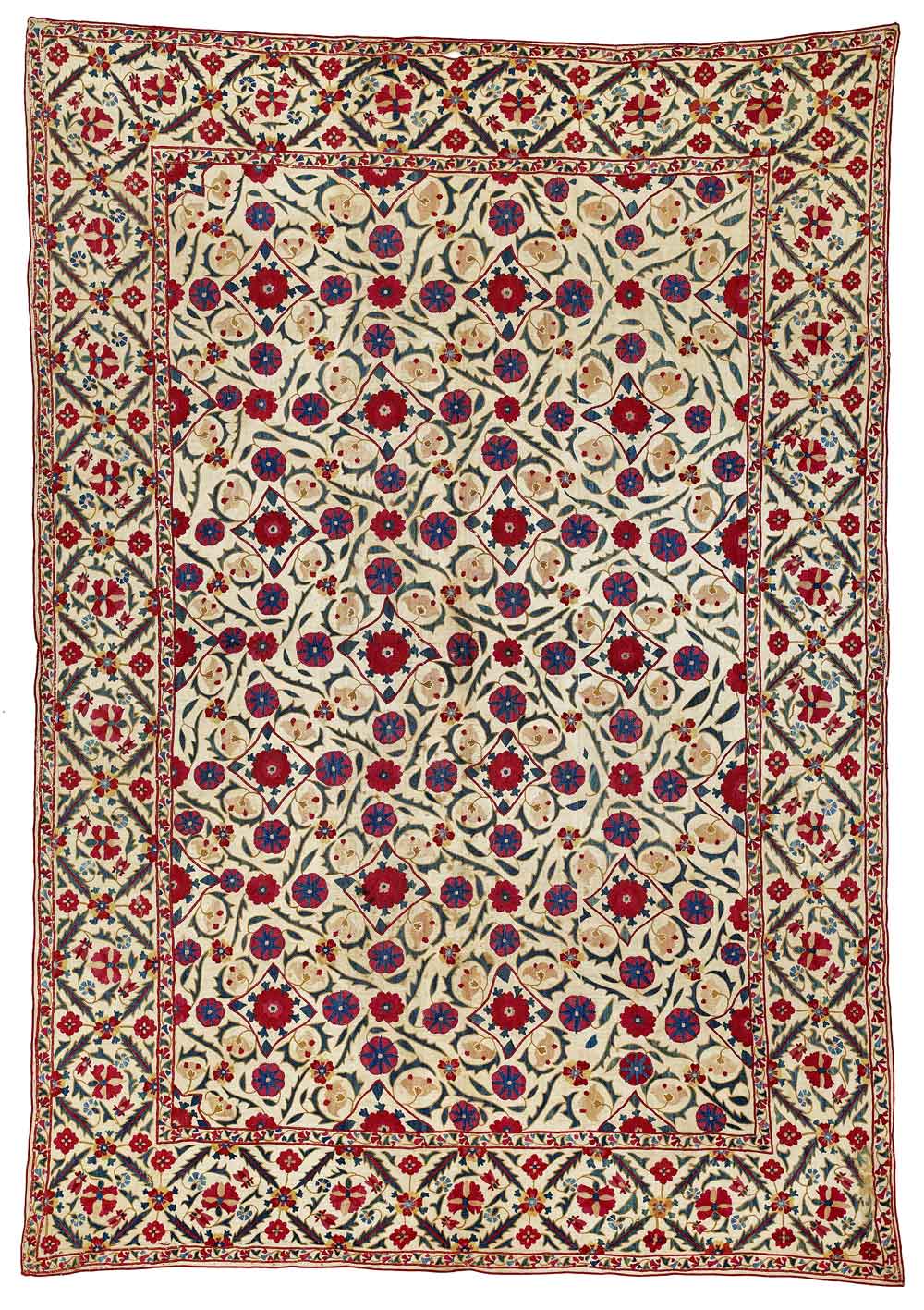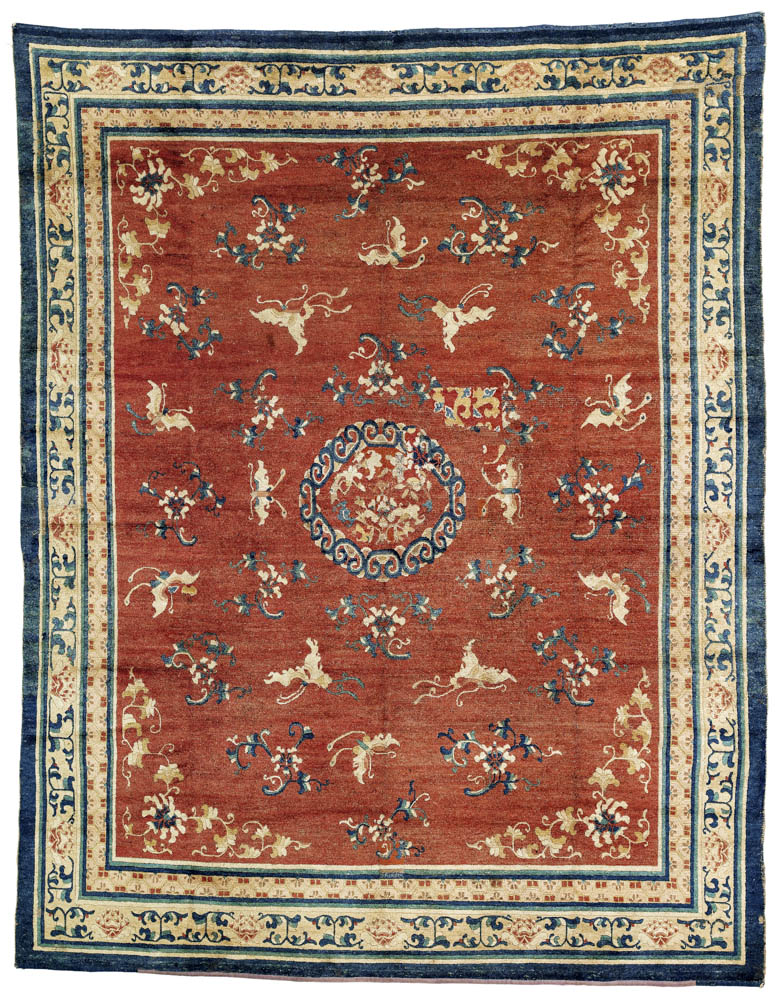 Lot 151, an ex-Herrmann red-ground Ningxia carpet, made €22,570; Lot 91, a wonderfully extravagant Kashmir shawl of French production and in beautiful condition, made €4,636 against a €5,000 estimate.  lot 104, an extremely pretty little Qashqa'i white-ground khorjin, sold for €3,172 over an €850 estimate.