London's Spring Islamic and Asian Art Sales, April 2013
The regular Spring and Autumn Islamic and Asian week auctions in London see tens, if not hundreds, of millions of dollars' worth of goods on offer across the full range of traditional mediums and materials, as well as 19th and 20th century paintings and contemporary works of art. Some pieces fetch prices far in excess of pre-sale estimates, others under-perform or fail to find a buyer.
The Spring 2013 round began on Monday 22 April at Christie's South Kensington, with Part I of the Saeed Motamed Collection – a diverse assemblage of objects from across the Middle East and South Asia put together by an expatriate Iranian, a member of the Baha'i community, between the early 1950s and his death earlier this year. Joint top lots were a large gold-damascened shield from North India and a gem-set Mughal rock crystal cup, each at £25,000/$38,000. The most notable textile lot, at £6,250/$9,500, was a late 18th century Mughal embroidered summer carpet. The sale yielded a total of £787,500 ($1,197,000), including buyer's premium. Motamed Part II follows in October 2013.
Now 'last man standing' with regular dedicated London oriental carpet auctions, Christie's beautifully displayed 205-lot sale on Tuesday 23 April went off without undue drama. Most of the competitive bidding was on the telephone and, increasingly live via the internet, rather than in the saleroom. Although lacking headline-grabbing pieces or prices, this time King Street proved to be very fertile ground for pre-1800 rugs, mainly Turkish, as well as a few older pieces from the Caucasus, China and East Turkestan, some of which significantly outperformed estimates. By contrast, much less interest was shown in large numbers of standard 19th and 20th century rugs and carpets of assorted styles and origins, and there were several long passages of unsold lots.
In fact the top price at King Street was the  £157,875/$240,760 paid for a large 1920s all-over lattice design Kum Kapı silk and metal-thread carpet (above), the first of several finely woven 20th century Istanbul or Hereke workshop rugs to do well here, among them a smaller and slightly earlier rug of similar design and palette, signed Hagop Kapoudjian, which sold for £32,500/$49,560.
Medallion Ushak carpet, west Anatolia, 17th century. Christie's London, 23 April 2013, sold for £109,875/$167,560
A record-setting price of £109,875/$167,560 was paid for a 17th century large-medallion Ushak in excellent condition, and another such sold for £73,875/$140,110. A third 17th century example, arguably the oldest of the three, was the only notable carpet in Sotheby's Arts of the Islamic World sale the next day, 24 April, where it fetched £42,500/$64,820 (see below).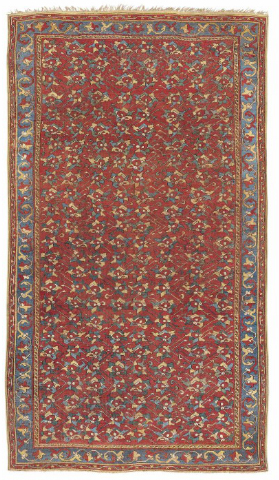 Ushak rug, West Anatolia, 16th century. Christie's London, 23 April 2013, sold for £43,750/$66,720
First among the smaller Ottoman Turkish rugs at Christie's was the very well drawn ivory-ground 17th century Goddard/Halevim west Anatolian çintamani design prayer rug, also at £73,875/$140,110. Another old friend, a very colourful, small-medallion Ushak, with some crude restoration, made £59,475/$90,700, and a 16th century Ushak carpet with an allover floral field design, also ex-Davide Halevim, was sold for £43,750/$66,720. A blue-field 'Transylvanian' double-niche rug in lovely condition made £32,500/$49,560, while another, somewhat older, with a rare ivory field, but in more challenged condition, fetched £18,750 ($28,590).
Other individual lots of note included the catalogue cover piece, the ex-Bernheimer white-ground 'proto-Zeikhur' Caucasian runner – worn, 'cut and shut', but still beautiful – which was by no means expensive at £40,000/$61,000. Another high quality old rug with condition issues was the early Ningxia 'RKO' design rug consigned by Seattle collector James D. Burns (who was present at the sale), which was a good buy for its new owner at £35,000/$53,375, as was his lovely 18th century east Caucasian red-ground palmette rug, which made £25,000/$38,125, the same price as a large, early 18th century Karabagh 'blossom' kelleh, damaged and very dirty, but still beautiful. Mr Burns' Dragon sumakh carpet did not sell.
A well-deserved £91,875/$140,110 was paid for a superb, pristine, 19th century mid-blue-ground silk 'pomegranate' design Yarkand, while a wool carpet with the same design, on a darker blue field, made £25,000/$38,125. An 18th century silk Kashgar carpet with a densely packed floral field sold for £37,500/$57,190, and a classic Khotan three-medallion carpet went for £20,000 ($30,500).
Best-placed Persian carpet at Christie's was a wonderful northwest Persian harshang design kelleh, in excellent condition, which deserved to fetch £67,875/$103,510. At the other end of the price spectrum, a robust Bijar kilim, with as abstract and contemporary a look as anyone could desire, made just £6,000/$9,150. A few high quality traditional design 20th century Tabriz and other Iranian town carpets, mainly silks, sold reasonably well, but Persian pictorials and others were not in demand. Class sells, but the ill-considered US Embargo on Iranian imports doesn't help anyone in this market.
Despite the fact that neither the high-ticket large fragmented early silk Kashgar cover from the collection of the late George Farrow, nor the 17th century Mughal medallion carpet (not Tabriz as originally catalogued) managed to sell, the sale yielded £1,959,850 ($2,978,970).
Bonhams' large Bond Street sale of Islamic and Indian Art on the same day yielded a satisfying total of some £3.6/$5.47 million). It included a handful of exceptional objects, notably two outstanding 16th century Iznik ceramic water bottles or flasks from an English collection, one selling for a world record price of £457,250/$695,020, the other for £301,250/$457,900.
There was also an extremely rare early Sinhalese Anuradhapura period carved granite temple step, weighing three-quarters of a ton, which was found in a Devon garden; it made £533,250/$810,540, some twenty times its pre-sale estimate. Modern Indian paintings also sold well with an untitled work by Tyeb Mehta (1925-2009) selling for £505,250/$767,980. Notable textiles at Bonhams included a mounted 17th century Mughal lattice design pashmina carpet fragment which sold for a very strong £51,560/$78,370, and a lovely Skyros cushion face embroidered with cockerels (£25,000/$38,000).
At Sotheby's, the Orientalist paintings sale, also on April 23, saw some exceptional results for some not always exceptional paintings, with The Offering, painted in Paris in 1897 by the currently very vogueish Austrian artist Ludwig Deutsch (1855-1935) soaring to a world record £2,154,500/$3,289,490 (top lot of any description during the week's sales), and half a dozen other works achieving prices in the £300,000-500,000 range.
Top lot in Sotheby's Arts of the Islamic World sale on 24 April, at £422,500/$644,400, was a large album of 35 Indian Company School watercolour paintings depicting costumes, craftsmen, trades, processions and dignitaries of the early 1830s.
In addition to the above-mentioned medallion Ushak carpet, Sotheby's sale included two more of the garments made from early Central Asian silks, usually simple samites rather than more complex (and later) lampas weaves, that have coming out of somewhere in 'Inner Asia' with increasing regularity over recent years and have been making some very high prices at auction and on the private market. One of these, an 11th-12th century robe with the added bonus of fur-lined collar and cuffs, and a silk, fur and feather hat, made £242,500/$369,860, while the other, a pair of dungarees-like blue silk trousers, was sold for $182,500/$278,350, the same price as a post-Sasanian silver-gilt dish depicting a crowned mounted archer. Also of interest was an unusual, perhaps 'unique' late 16th century Iznik ceramic water flask that fetched £134,500/$205,140.
Christie's main Art of the Islamic and Indian Worlds sale on Thursday 25 April was preceded by a separately catalogued private collection of 56 examples of the 'arts of the book' – illuminated manuscript folios, Qur'an leaves, calligraphy and bindings – 'Donated to benefit the University of Oxford'. Top lot was The Court of Pir Budaq, painted in Shiraz in the mid-15th century, which far outstripped its estimate to make £433,875/$644,260, while two mid-16th century Bukharan paintings from Sa'di's Gulistan, attributed to Mahmud Huzahhib, also fetched high prices. This section totalled £1,431,100 ($2,175,270).
The rest of Christie's sale, like their carpet sale two days before, was short of real headline lots. Most expensive was a Fatimid plain white marble water jar and carved stand which made £241,875/$370,310. An intact Fatimid lustreware jar and a Safavid carved rock crystal seal each fetched £217,875/$333,570. Iznik wares again performed strongly, in particular a very large Kara Memi style tile (£67,875/$103,917), and an assortment of jugs, flasks, and tankards. Apart from a couple of Safavid calliographic silk tomb covers, there was little success for textiles, other than at the other extreme of the sale, where a strip of Mughal voided silk velvet border went for just £2,500/$3,830). The sale yielded £2,734,750/$4,153,780.
The week ended, as it had begun, among the less rarefied goods back in South Kensington. On Friday 26 April Christie's 'Arts of Islam including property… sold to benefit Brown University' yielded £930,000 ($1,413,600). With fewer textiles than usual in this final roundup, joint top lots at £40,000/$61,800 apiece were a late 17th century Ottoman Qur'an section, and a very handsome and orderly classic Shahrisyabz suzani embroidery from Uzbekistan.