Rippon Boswell December Auction
The December auction (3 December 2016) of collector's carpets at Rippon Boswell in Wiesbaden is one of the most interesting sales in recent months. It is a well-balanced sale including many rugs consigned from the estates of collectors, with the proceeds from certain consignments going to charity. The estimates are generally very low and should allow for a good sale with lots of bidding.
There are four major components: the first 57 lots are from the Senta and Dietrich Wollheim collection built in the 1960-70s; over thirty lots from the private collection of the respected former Mannheim carpet dealers Engelhart, the remainder of a good collection that has been dispersed by Rippon Boswell over the past couple of decades, now consigned by their estate; 21 pieces from a collection in Wuppertal; and a group of nine Anatolian kilims from an Austrian collection, all with excellent provenance. There are also a number of comparable lots such as star-design sumakh bags and a few highly collectible and good-condition Turkmen weavings, including two exquisite Salor trappings and a Tekke embroidered asmalyk. Click here to see the full catalogue.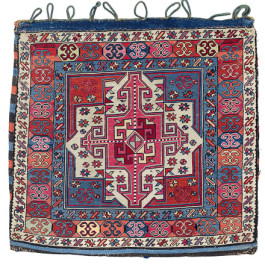 Highlights from Rippon Boswell
22 images
With 238 lots on offer on Saturday 3 December, the rug world's attention turns to Wiesbaden and Rippon Boswell's auction, which is one of the most interesting and competitively-priced sales of 2016.