Brochure: Carpets & Textiles of Morocco, September-October 2019
HALI is thrilled to be returning to Morocco, 28 September – 7 October 2019 with a second HALI Tour, to view little-seen textiles in inspired private collections. The textiles and carpets of Morocco represent a unique form of artistic expression, and three distinct aspects of Moroccan textile arts will be represented: those of the Arab world, the Berbers and the refined silk embroideries and workshop rugs of the cities, which convey the influence of Mediterranean style and design.
Although the minimal aesthetic of Moroccan carpets suits designer tastes in contemporary interiors, the country's textile art traditions are now attracting the attention of the wider art world. While Morocco and its ancient traditions of weaving are enjoying greater appreciation, for several decades the nation's textiles and carpets have been collected, studied and appreciated by a number of forward-thinking individuals, whose expertise and collections will provide the mainstay of material on the second HALI Tour to Morocco. The Moroccan weaving expert Wilfried Stanzer will act as our guide, with input from another respected HALI contributor and Moroccan carpet specialist Gebhart Blazek and accompanied by HALI's Rachel Meek.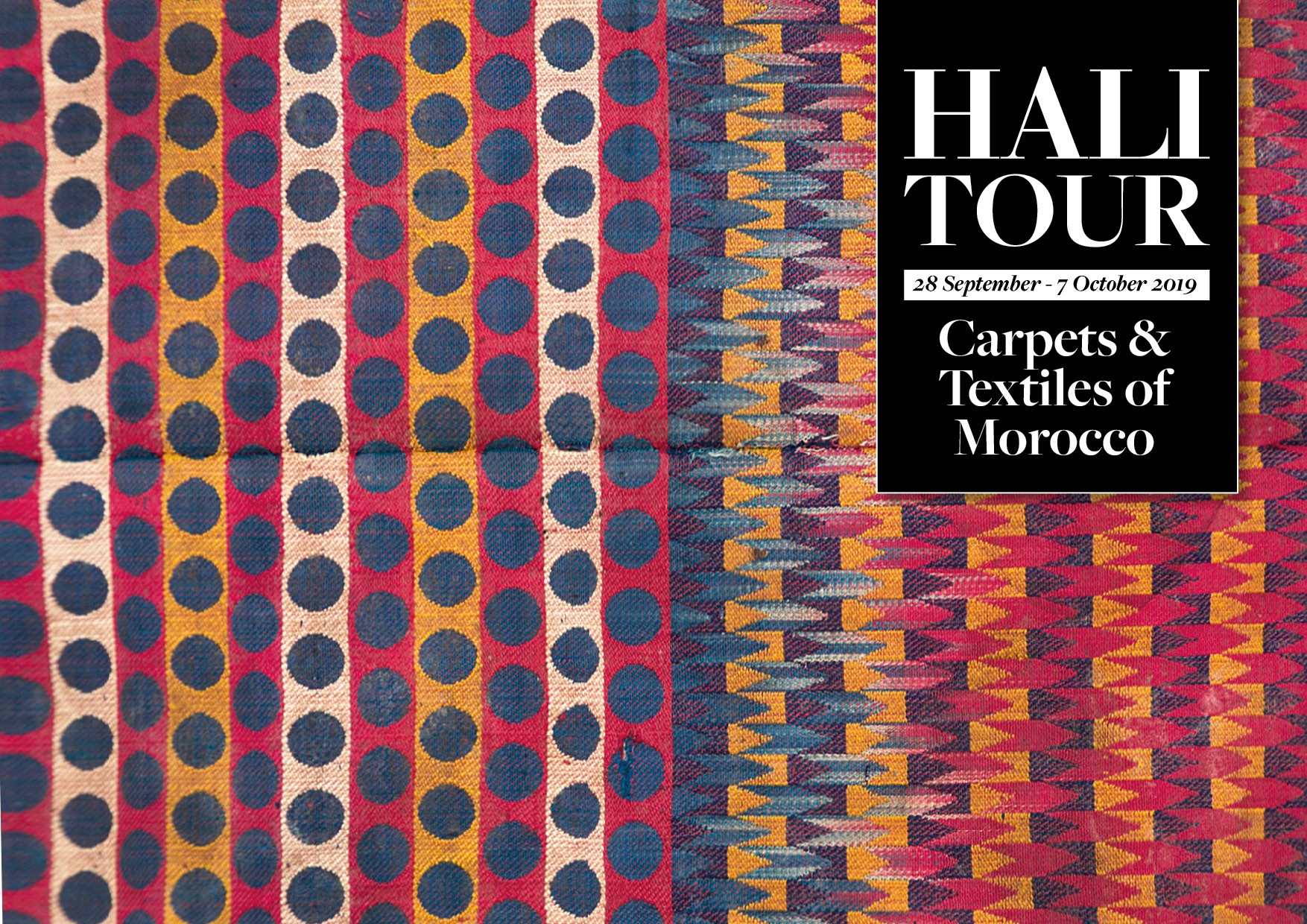 Access to private collections and expert commentary are key components of all HALI Tours but in Morocco, this is perhaps more important than anywhere else, as national museums do not hold great collections of the country's textile arts and it is only through local knowledge and special connections that the best textiles remaining in Morocco can be seen. With so much material in private hands and new forces in the market, these are pivotal times for Moroccan textiles. A number of internationally recognised experts will provide HALI's guests with special presentations and commentary.
Alongside the unique HALI content, the ancient medinas of four imperial cities, architectural and archaeological highlights and the Atlas Mountains will be visited, with time scheduled to relax in luxurious riads too.
Click on any page of the brochure below to enlarge it or email [email protected] to receive a brochure by email or enquire about booking.