Brochure: Great British Collections, June-July 2019
You may have heard that we are planning a series of celebratory events to mark forty years and 200 editions of HALI magazine. Collectively known as HALI London, these will take place in the British capital 24-30 June 2019. On the occasion of HALI magazine reaching these two important milestones, we are delighted to offer a small group unique access to great antique carpets and textiles from around the world, assembled by collectors in England.
The tour leader will be the Sotheby's consultant, and expert on carpets and Islamic art, Jacqueline (Jackie) Coulter. Conceived as a way to lengthen and enrich the HALI London experience by offering unprecedented entry to institutions and private collections outside of the capital, it could also stand alone as a 7-day tour, 30 June-7 July 2019.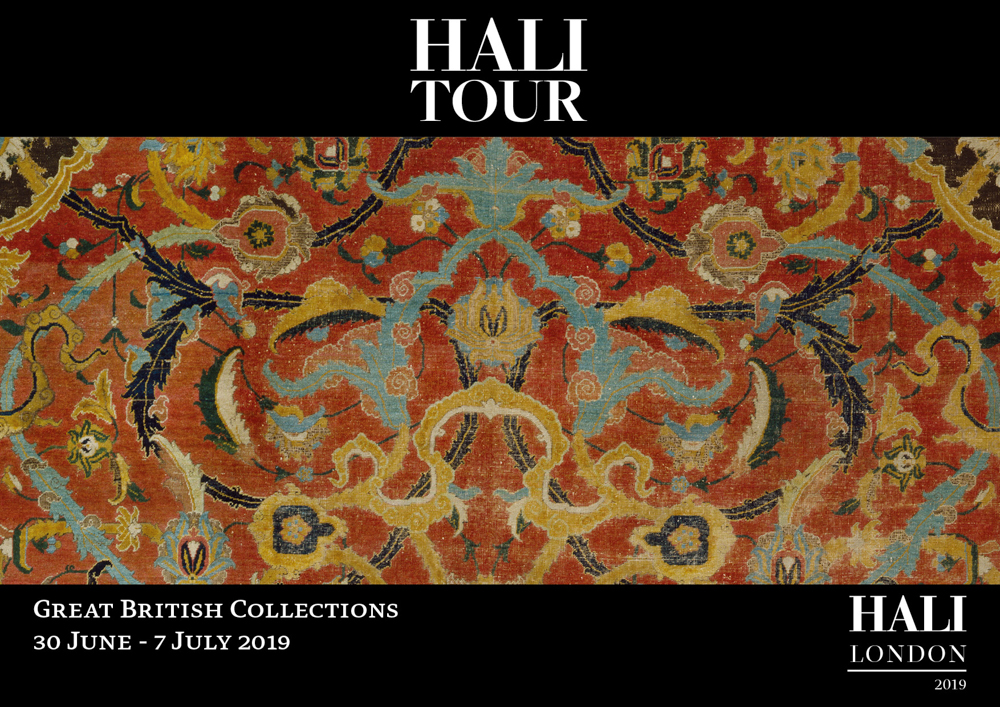 Historic textile mills and grand buildings are testament to Manchester's might during in the industrial revolution, and one of the most important collections of antique textiles in Britain can be found at The Whitworth Museum. View Greek Island embroideries and Coptic textiles, collected by a tight-knit network of Victorian and Edwardian archaeologists and adventurers, before visiting three more university museums later in the week. Tour the textile highlights on display and in the stores at the Fitzwilliam Museum in Cambridge, and at Oxford's Ashmolean and Pitt Rivers Museums.
Three spectacular houses contain collections, assembled in different eras, that represent the diverse artistic interests of their creators and inhabitants. Tapestries and embroideries in the Elizabethan Hardwick Hall are testament to Bess of Hardwick's love of textiles and her own needlework talents; English carpets dated 1584, made after Turkish Star-Ushaks, remain in Boughton House on one of the Buccleuch estates and display the family coat of arms; William Morris described his Cotswold retreat of Kelmscott Manor as the 'loveliest haunt of ancient peace' when he first visited in 1871. It now houses original textiles, paintings, carpets, ceramics and metalwork by the English Arts & Crafts artist, designer and champion of Persian carpets.
Click on any page of the brochure below to enlarge it or email [email protected] to receive a brochure by email.