Brochure: Japan, Oct – Nov 2018
The first HALI Tour to Japan, 31 October – 12 November 2018, in association with Martin Randall Travel, will provide insider access to textile collections in museums and temples, private visits to cultural institutions, and presentations by leading textile experts and cultural figures, including the travel writer and essayist Pico Iyer.
Japan is renowned for its rich textile history, as well as its appreciation for textiles from other parts of the world. The traditional national dress—the kimono—epitomises a refined textile artistry: relatively simple in construction, its broad expanse of fabric is ideally suited to expressive displays of design.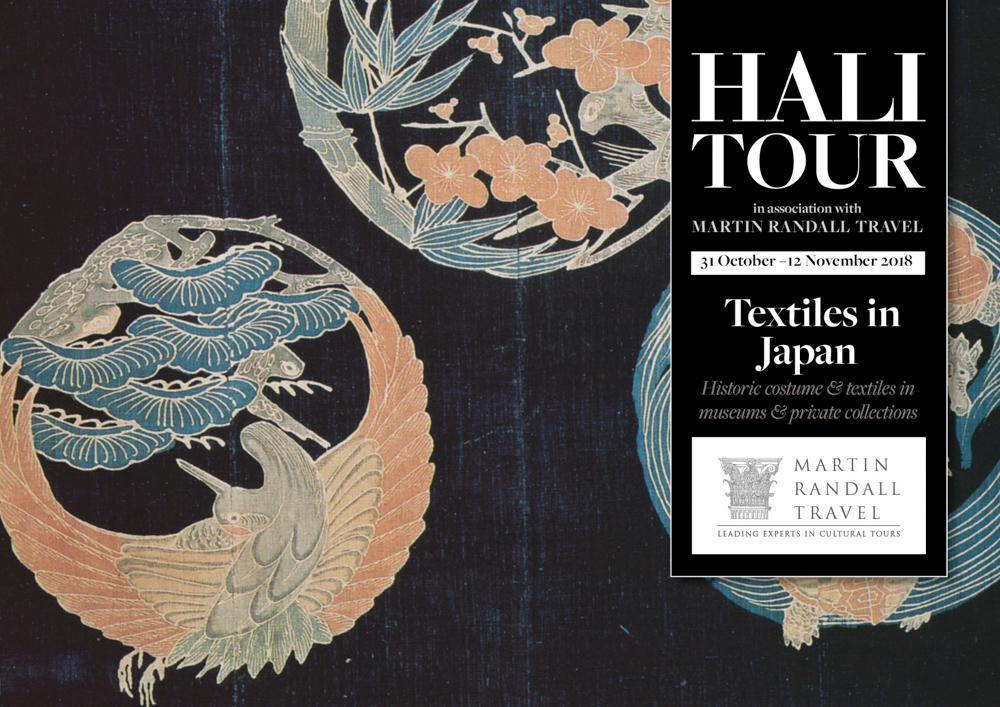 The dates coincide with two very special annual events at two historic capitals: the display of Buddhist temple treasures at Kamakura and Nara. The Nara period coincided with the height of the Tang dynasty in 7th-8th century China. At this time, China was central to pan-Asian trade and cultural exchange, making Japan the easternmost recipient of the globalism facilitated by the Silk Road. The later Kamakura period (1185 – 1333) saw the samurai class become dominant, as well as the beginnings of Zen Buddhism, the tea ceremony and Noh theatre.
For those familiar with Japan and for first time visitors alike, this tour offers many a memorable experience for the textile enthusiast. Included will be a Kabuki theatre performance, augmented by a special display of the popular art's outlandish costumes; exclusive talks by curators at Tokyo and Kyoto's prestigious National Museums; time at the dramatic recently-established Enoura Observatory; visits to traditional textile workshops to see artisans at work; and viewings of private collections and select dealers' stock.
For further information, to receive a brochure by email, or to be added to the HALI Tours mailing list, please contact Rachel Meek at [email protected] or call +44 (0)203 370 7572.