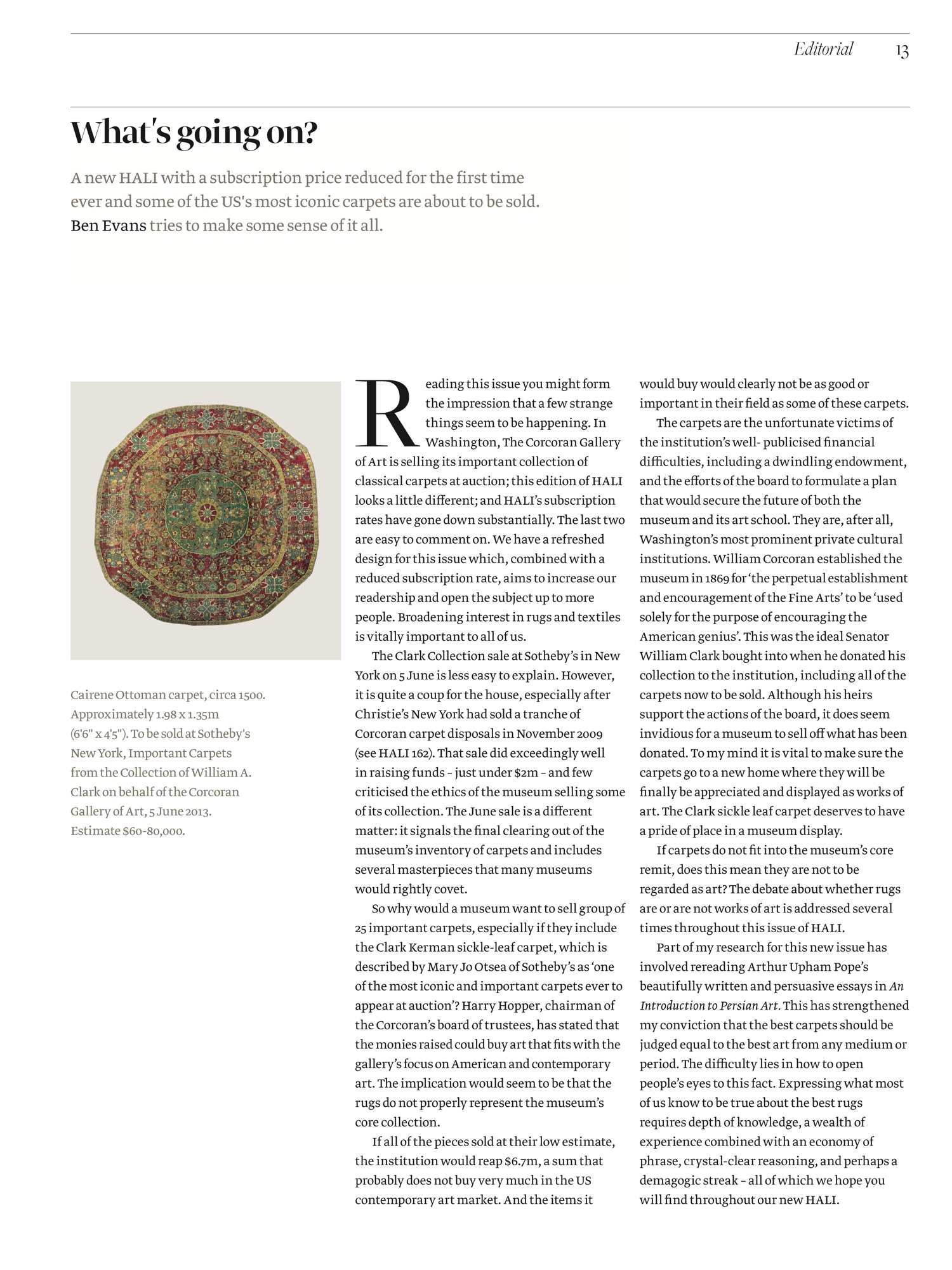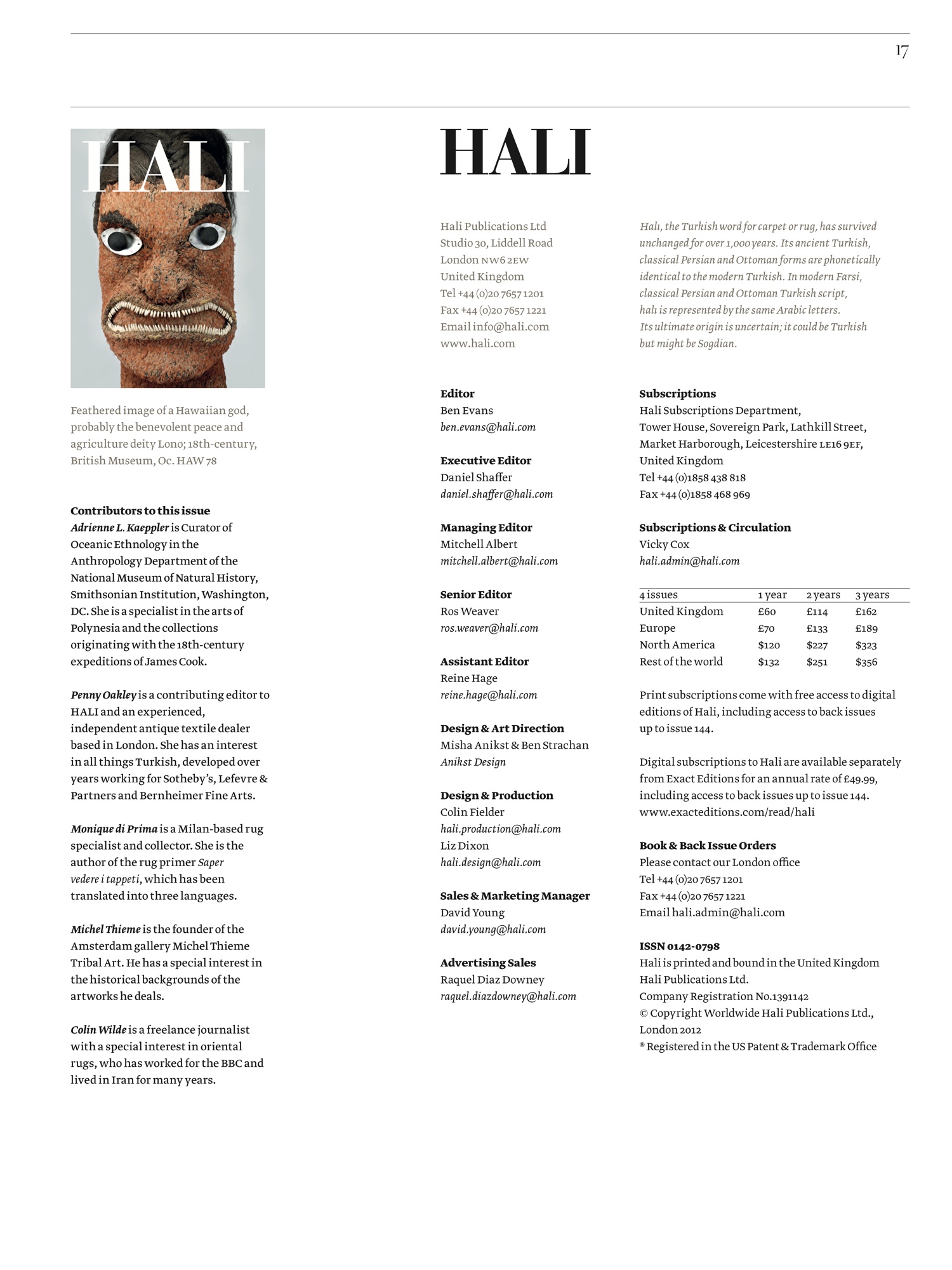 Compass
Thread of Time: The colour purple: two textiles, 800 years, and the enduring power of a royal hue.
Dialogue: Asian Art Week in New York; an important auction by the estate of Andy Williams; Chinese ceramics; Grayson Perry's tapestries; the V&A's Jameel Prize. Plus: letters to HALI; commemorating friends who have passed on.
Diary: Ten unmissable events to watch for in the coming months.
Calendar: Auctions, exhibitions, fairs, and conferences taking place this season.
Travellers' Tales: Ros Weaver reports from Bolivia on the changing textile culture of the Andes.
Interview: Legendary London-based Oriental art dealer Giuseppe Eskenazi on the occasion of the publication of his autobiography.
Comment: Can rug collecting escape the perennial fixation with 'Oriental'?
Anatomy of an object: The 16th-century Clark sickle-leaf vase carpet, soon coming up for auction at Sotheby's with record-breaking expectations.
Features
Showing his hand: Monique Di Prima
In the first of an exclusive series, industrialist Romain Zaleski welcomes HALT to his Milan residence for a rare glimpse into his exquisite textile collection.

When horses wore silk & gold: Barbara Karl
Three splendid Ottoman capralts – ceremonial saddle cloths – have now been traced authoritatively from the Imperial court in 16th-century Istanbul to their current homes in museum collections.
Writing so subtle… Michel Thieme
Painted New Guinean barkcloths exerted a hold on the imagination of artists such as Max Ernst and Joan Miro when they were exhibited in the 1920s, but the fate of the form has not been kind.
Power, prayer and plumage Adrienne L. Kaeppler
Feathered god sculptures and garments were essential to the power and prestige of Hawaiian chiefs during the time of Captain Cook's voyage there. Why were so many of these artefacts given so readily to Cook and his crew, and what became of them?
An insider's viewpoint Penny Oakley
The Ottomans were probably some of the world's most prolific embroiderers, as an exhibition currently being held at Istanbul's Sadberk Hamm Museum makes abundantly clear.
Reviews
Exhibition reviews: Caucasian rugs from the Rudnick collection at the Museum of Fine Arts, Boston; 'Treasures of the Royal Courts: Tudors, Stuarts and the Russian Tsars', Victoria and Albert Museum, London; learning about 'Transylvanians' from paintings at the Museum of Islamic Art, Doha; 'Chavin – Peru's Mysterious Temple in the Andes', Museum Rietberg, Zurich.
Book reviews: Andrew Hale looks at David and Sue Richardson Prestel's book Qaraqalpaqs of the Aral Delta an exhaustive study of the diminishing central Asian community and its fascinating material culture; the Metropolitan Museum of Art's Turkmen Jewelleryby Layla S. Diba.
The right price? Michael Franses – A fine 16th-century Safavid Persian carpet recently sold for nearly $2 million. But were the bidders museums or private individuals? Michael Franses asks whether museums could be missing out on valuable historical works.
Fair: Daniel Shaffer –  The San Francisco Tribal & Textile Arts Show is one of the key events in the rug and tribal arts calendar. At this year's edition in February, HALI's Executive Editor singles out two Aymaran women's mantles for special comment.
Auction Price Guide: Comment and analysis of the best rugs and textiles sold at international auctions over the last four months including a strong offering of Caucasian rugs, two interesting and rare textiles from Oceania and attributed to Anglo-Irish artist Francis Bacon.
Last page What's coming up in HALT 176; with a well-known white ground Caucasian long rug returning to the London auction rooms in April, we revisit our previous analysis of it at auction; a Caucasian rug reading list.