An Ottoman Çatma at Sotheby's, London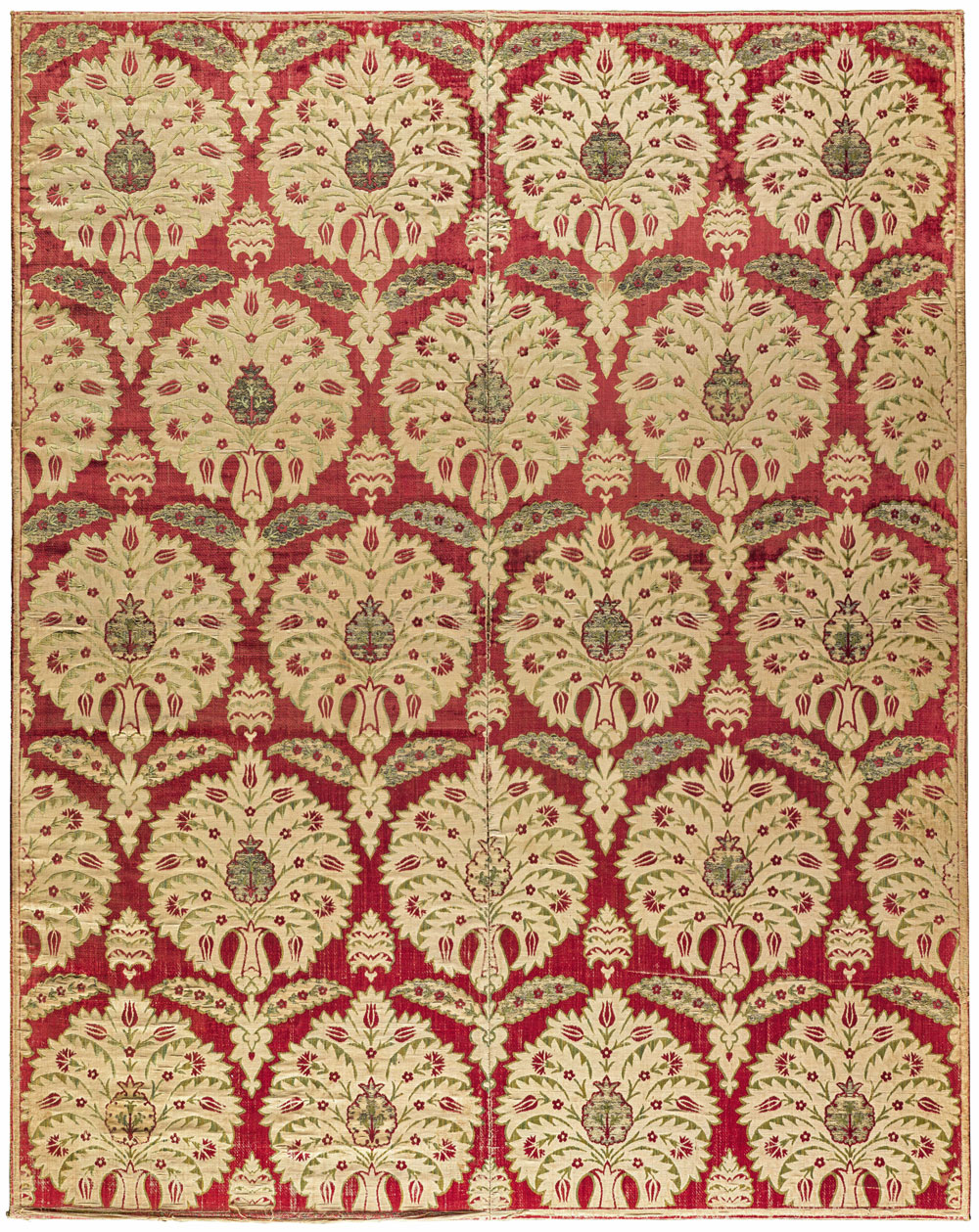 This large Ottoman voided silk velvet and metal-thread panel (çatma) panel, made in Bursa or Istanbul in the late 16th century, is one of the few textiles in Sotheby's London sale of 'Arts of the Islamic world' on 25 October  2017. Estimated at £80-120,000, it measures 162 by 127.5cm and was woven in two parts, joined vertically at the centre. Decorated in the so-called 'quatre-fleurs' style with flowers closely associated with the Ottoman Court—tulip, hyacinth, rose and carnation— it would probably have been used either as a wall hanging, curtain or divan cover. It is dominated by rows of large carnations, which by the end of the 16th century had developed into the serrated fan-shaped carnation palmette motif. With a limited number of ornaments and a restricted range of colour Ottoman textile designers were able to achieve impressive versatility using barely perceptible changes and by constantly modifying composition and using alternative combinations of motifs. A variation of this design on another full çatma panel is illustrated in: F. Sphuler, The Thyssen-Bornemisza Collection Carpets and Textiles, London, 1998, pp.220-261, pl.71. A further variant of this design, adapted to the yastık format, is in the Metropolitan Museum of Art, New York (no. 17.120.123).
Sotheby's sale also includes  a fine silk samite fragment (90 by 97cm), Persia or Central Asia, late Buyid or Seljuk period, mid-11th/12th century, showing paired griffins within inscribed roundels and inscriptions that translate as 'Glory and prosperity and wealth and victory…' This, along with the distinctive symbolism of the griffin, may link the textile to the celebration of a victory. £50,000- 60,000.