10th Sartirana Textile Show
Held in a picturesque 14th century castle and the old rice mill, La Pila, Sartirana's tenth anniversary brings together an abundance of rug and textile exhibitors. Organised by Alberto Boralevi, the show will run from Wednesday 10 September 2014 through Sunday 14 September at La Pila in Sartirana Castle, Lomellina, about an hour's drive from Milan.
The programme is rich in textile art exhibitions and the ever popular Tea Time Textile Talks will also return to discuss topics including Italian Rugs, sofrehs and kilims, and 'Noi donner di Tehran', a book by Farian Sabahi. This year's show also features three side exhibitions 'Antique Peasant Rugs from Sardinia, Abruzzi and other Areas of Southern Italy', 'Design rugs signed MEMPHIS' and David Sorgato's 'Boucherouite'.
Click here to see Alberto Boralevi's article on a rare Italian peasant rug that will be shown at Sartirana
The opening times are:
Wednesday 10 September 6pm – 10pm
Thursday 11 September & Friday 12 September 11am – 8pm
Saturday 13 September 10am – 10pm
Sunday 14 September 10am – 7pm
This year's exhibitors include several Italian and international antique rug and textile dealers. Galerie Arabesque, Anatolian/Ufuklar Halicilik, Alberto Boralevi, David Sorgato, Mollaian, Memarian, Edoardo Marino, Apadana Gallery, Galerie Emir, Caesar Shepherd Rug Gallery, Augusto Rillosi, Seltene Orientteppiche, Kamoo Gallery, Chanteh by Kami, Igor Honkanen,  Zamani, Serkan Sari and Carpet Collector will all showcase their carpets and textiles at this years show.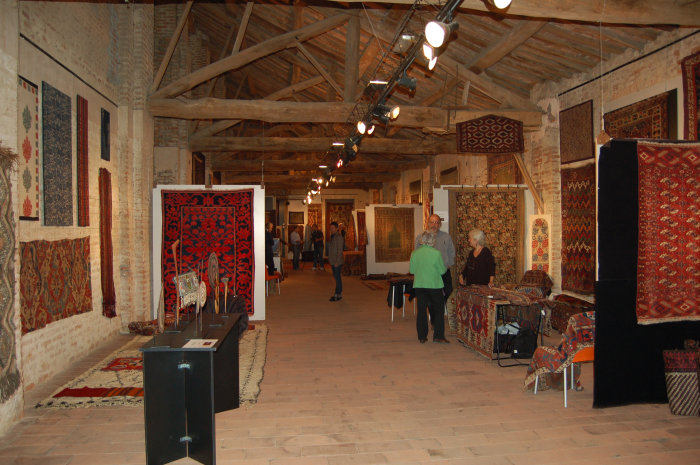 Categories