Anatomy of an Object: A Phulkari Embroidery
The silk embroidered shawls of the Punjab combine the aesthetic of folk art with the rich varied silk hues of precious luxury. Ben Evans reveals the techniques and traditions lying below the surface of these vibrant textiles.
Many types of Indian silk embroideries have appeared in books or been the subject of thematic exhibitions over the years. Aside from the Oriental Art Museum in Turin's exhibition, one of the most spectacular classes of Indian embroideries, phulkari, have not received collectors' attention or been the subject of in-depth research, despite coming from a rich regional tradition and having spectacularly colourful, dynamic designs.
Phulkari, literally translated as 'flower work', were made throughout the Punjab in the 19th and 20th century as well as to the north in the Hazara area; the making of phulkari seems to have died out post-partition. The tradition is definitely a regional rather than religious one: the more pictorial and representational designs seem to have originated in the eastern part of Punjab and Haryana while the more geometric non-figurative examples seem to have been made in the west, where the large Muslim population lives.
These head shawls or covers were made in the home for a bride's dowry, with a grandmother starting to embroider as soon as a girl was born. A girl would start to embroider at a young age in order to create a significant number of pieces for her dowry; as such phulkari played an important part in marking a girl's passage to womanhood. Designs were passed between generations verbally, and some patterns can be firmly ascribed to particular areas; there are also design variants such as the darshan-dwar type illustrated here, which were made in much smaller numbers and are thus rarer than many other types. This especially applies to pieces with a black ground. Designs may vary but shared aspects of making phulkari cohere the group: they are generally sewn using darning stitch in brightly coloured unplied floss silk on a ground of handspun and handwoven cotton called khadi.
Some were used to cover women's heads, at other times they were used in various parts of the wedding ceremony to envelop the bride or to cover the bride and groom during the wedding procession. They were used as hangings and covers for important events as well as donated for use in temples. This darshan-dwar phulkari, meaning doorway to the divine, was made to be given to a temple in recognition of either a wish granted or of prayers asking that a wish be granted. Opinions differ as to whether this practice was restricted to the Sikh community or done throughout Punjab at Hindu temples. The layout here shows two arcades of pillared buildings with pointed roofs. The ends and side borders are interwoven with depictions of jewellery and scenes of tribal life, typical for a darshan-dwar phulkari.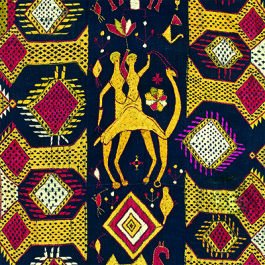 A phulkari embroidery
4 images
Learn more about the design elements of this phulkari embroidery.
Categories

Tags