'Master – An Ainu Story', The Brunei Gallery, SOAS, London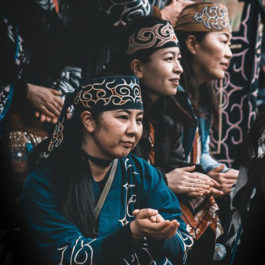 Master - An Ainu Story
10 images
Highlights from 'Master - An Ainu Story', on show at The Brunei Gallery, SOAS, in London.
On show at The Brunei Gallery, SOAS in London until this Saturday 15 December, 'Master – An Ainu Story' presents photographs taken by London based photographer Adam Isfendiyar. Adam Isfendiyar describes his photography exhibition:
'"Master – An Ainu Story" tells the life story of an Ainu man – Kenji Matsuda, who grew up being discriminated against in his own land because of his Ainu heritage, and gives a rare insight into the life of the indigenous people of northern Japan.
There is very little documentation on the Ainu in English and few Japanese know much about them. It is thought that there may be up to 200,000 people of Ainu decent living in Japan today, but due to the history of discrimination against them only 10 percent of that number will admit to having Ainu roots.
This exhibition looks at the personal story of a man who carried the legacy of shame from his grandparents generation and has tried to help revitalise this deep and rich culture that the Japanese government attempted to eliminate at the end of the 19th century.'
A culture with rich textile traditions, 'Living with Wood', a 2015-16 travelling exhibition organised by the Foundation for Research and Promotion of Ainu Culture, was one of the most important Ainu art shows in Japan this century. George Hegarty, a professor at Teikyo University in Tokyo who teaches tribal art and world cultures, looks beyond the wood in HALI 189. The following is an abridged extract from Hegarty's article, 'More than wood':
'Of all the objects in the exhibition, probably the best known would be the robes (which have a certain resemblance to Japanese kimonos) made by women from plant fibres. Prior to these robes, Ainu made clothing from the skin and fur of such creatures as seals, sea otters, deer, dogs, raccoons, rabbits, and even fish. In the northern Kurile Islands, due to the rarity of land mammals, birdskin clothing was used. The robes made from plants include those made from the bast fibre of elm (sometimes linden) tree bark (attush) in Hokkaido or vegetable fibre made from nettle grass (retarpe = white) in Sakhalin.
On garments used for formal occasions, narrow strips of cloth were appliquéd and embroidered with coloured yarns for protective and magical purposes. Two common motifs include a spiral pattern called moreu attached to the back of clothes to protect people, and a parentheses-like pattern called aiushi or ayus (with thorns) embroidered on the backs, sleeves, and hems to exorcise evil spirits. The tip of the parenthesis is called a thorn and represents a hunting arrow, and the net motif represents a fishing net. Bracken ferns and water chestnuts, both of which represent birth, also figure among the patterns. A rope pattern represents the cycle of life.
In all, nineteen common patterns have been identified and eleven types of stiches. As contact with Japanese increased, attush and retarpe robes stopped being made and were replaced by different types of robes made of imported cotton, the highest quality perhaps being the ruunpe robes.
Just as different Christians may have varying interpretations and beliefs of their religion, Ainu may not all agree with the same explanations of their religion and culture, nor even be able to communicate with each other due to different dialects in a language that is not written in a culture that has been deliberately repressed.'
Read more about the divisions—Ainu, Mingei and Okinawa— in the recently published book, Textiles of Japan: The Thomas Murray Collection, which echoes the geographic placement of these three distinct cultures.
Categories