Oriental Carpets & Textiles, Christie's London Autumn Islamic Sale, 26 October 2017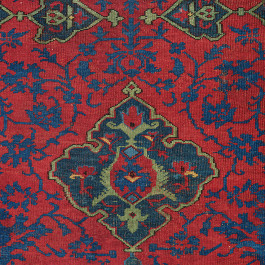 Oriental Carpets and Textiles, Christie's London Autumn Islamic Sale, 26 October 2017
17 images
Additional highlights from Christie's, London
In addition to a handful of excellent textiles, Christie's autumn 'Art of the Islamic and Indian Worlds' at King Street on Thursday 26 October 2017 has a separate section at the end of the sale of oriental rugs and carpets that contains a good number of top quality, antique collectable and high end decorative pieces. For an auction season that includes the much publicised celebrity offerings elsewhere (Hodgkin & Alexander), Louise Broadhurst has put together a very creditable group of 64 rugs and carpets, mainly in excellent condition.
Over the past year, Christie's worldwide have been through a major, market-driven, corporate change in in their approach to the selling of oriental carpets and Islamic textiles and other areas of decorative arts, and rugs are now offered at the end of the hefty Islamic Art catalogue.
Turkish pieces on offer in London include a 17th century West Anatolian 'Ghirlandaio' rug (£40-60,000) and a very good, very decorative, large-medallion Ushak carpet (£35,000-55,000).
The selection of Caucasian rugs includes a late Karabagh Dragon carpet from a US collection (£18-25,000), while a Karabagh Kelleh, inscribed 1205 (1791 AD) with a small central medallion on an unusual lattice field and white-ground borders is estimated at £15-25,000. There is a rather worn white-ground C-type Star Kazak (£15-20,000), another rare Kazak rug of a desirable type, consigned by an Italian collector, was once in the Ralph S. Yohe collection (£40,000-60,000), a very unusual silk foundation prayer rug (£25-35,000), and a lovely black-ground tribal shadda with camels (£20-25,000).
A refined chuval-göl Yomut Turkmen main carpet, possibly 18th century is in at £25-35,000, and an inscribed Bakhtiari Khan carpet  of medallion design, made around 1890 for Agha Mostafa Gholi Khan Bakhtiari, is estimated at £15-25,000. A top-notch 'Mohtashem' Kasham, also in a medallion design, is expected to fetch £15-25,000, as is a well known northwest Persian runner with camel ground and bold blue and white reciprocal trefoil borders, possibly 18th century, previously published by Herrmann and sold at Rippon Boswell.
The textiles in the sale, which would have appeared at South Kensington in past years, include two excellent Uzbek suzani embroideries—a large Shahrisyabz with a four-and one field design from an Israeli collection at £20-30,000, and a lovely Bukhara  (£15-20,000)— as well as some charming examples of Greek Island embroidery.
Categories

Anatolian Rugs, Asian textiles, Caucasian flatweaves, Caucasian rugs, Central Asian textiles, Classical carpets, dragon carpets, East Turkestan Carpets, Islamic art, Oriental carpets, Ottoman carpets, Persian carpets, prayer rugs, suzani embroidery, textile art, Tribal rugs, Turkish carpets, Turkish textiles, Turkmen rugs