Phulkari exhibition, Turin
Phulkari from the private collection of Guido and Aldo Accornero Lazzarino were exhibited at the Museo d'Arte Orientale di Torino in Italy, 14 April – 15 May 2016. This is the first museum exhibition dedicated to these finely embroidered cotton shawls from North-West India. Those shown are from the Bhatinda and Faridkot districts, Punjab.
The literal translation of phulkari is 'flower-work', a reference to the elaborate designs used on these ceremonial shawls which were an essential part of a young bride's trousseau. Made from two or three pieces of hand-dyed cotton, they have been embroidered at home in floss silk by women for many generations. They were worn by women during special public celebrations and domestic rituals, and also used to wrap around the body of the deceased. The tradition more or less stopped in the early 20th century.
For more information about the museum, the exhibition or the exhibition catalogue that accompanied the show visit http://www.maotorino.it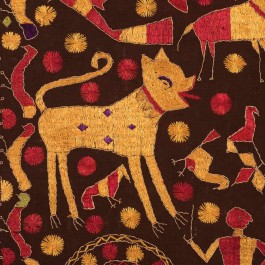 Phulkari exhibition at the Museo d'Arte Orientale, Turin
21 images
Highlights from the recent show of embroidered shawls from North West India.
Categories