Uzbek textiles on show in Calgary, Alberta until January 2014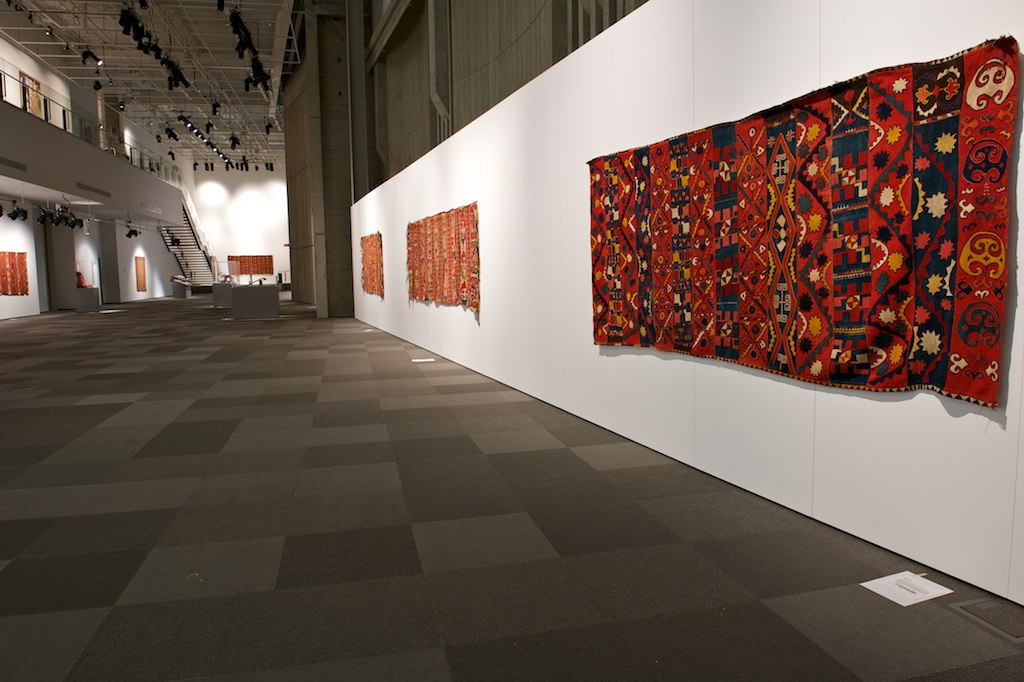 'Ram Horns and Scorpion Tails: Textiles from Uzbekistan', which opened on 8 November 2013 in in the new Nickle Galleries at the University of Calgary, features a selection of Uzbek rural flatwoven and embroidered textiles and knotted pile rugs from the Jean and Marie Erikson Collection.
 The Erikson's okenli-ghilam and gagari-ghilam textiles were bought in Istanbul in the late 1980s/early 1990s. Unlike the textiles of Uzbekistan's urban centres, such pieces have received little scholarly attention to date and have seldom been exhibited. The exhibition, curated by Michele Hardy, examines the repetition and variation of motifs, most specifically the ram's horn, across different textile media and techniques. The okenli-ghilam textiles, composed of strips of embroidery and strips of warp-patterned weaving, are particularly dynamic. They feature motifs thought to be associated with pre-Islamic shamanism, nomadic and sometimes urban cultures. These include an array of horn motifs, talismans, stars, cockscombs, rhombuses, combs and arrowheads.
This is the inaugural textile exhibition in the new Nickle Galleries at the University of Calgary in Alberta, Canada. Formerly known as The Nickle Arts Museum, the institution moved its collections and staff into the university's new state-of-the-art Taylor Family Digital Library in 2012. The new facility brings together a number of important research collections – books, digital resources, archives and special collections, as well as the unique holdings of the Nickle. It is home to a growing collection of rugs and textiles in addition to the Jean and Marie Erikson artefacts. The collections are featured in regular, rotating exhibitions and are actively used to support teaching and learning on campus. 'Ram Horns and Scorpion Tails' ends on 4 January 2014. For further information, please contact Michele Hardy, [email protected]
Categories