Cotsen Collections donated to George Washington University and The Textile Museum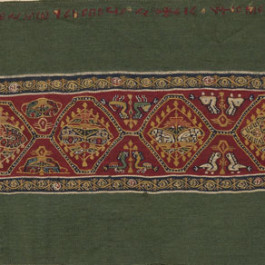 Cotsen Collection
27 images
Textiles from the Cotsen Collection donated to George Washington University and The Washington Textile Museum by the 1985 Trust set up by Lloyd Cotsen.
The Washington Textile Museum, now part of the US capital's George Washington University, has received a $18.4 million gift of more than 4,000 textiles, together with purpose-built cabinetry and an endowment, from the 1985 Trust set up by Lloyd Cotsen, former CEO of Neutrogena. A long-serving TM trustee, Cotsen, who died in 2017 was a passionate art collector and philanthropist who admired lesser-known art forms and was fascinated with texture and structure. He acquired objects from around the world, including children's books, Chinese mirrors, Japanese bamboo baskets and a vast assortment of textiles, subsequently donating them to various institutions and art museums (see HALI 194, Winter 2017, pp.90-105).
At the heart of the GWU/TM donation is the Cotsen Textile Traces Study Collection, comprising small-sized textile fragments representing cultures around the globe and dating from antiquity to the present—one of the most significant study collections ever assembled by an individual. The gift includes the creation of a permanent dedicated space within the museum to be called the Cotsen Textile Traces Study Center. This much needed facility means that for the first time since its founding in 1925, there will always be things to see no matter what else is happening at the museum. In addition, the Cotsen Trust has given 137 larger textiles, among them pre-Columbian garments from Peru, rugs from China and Anatolia, Greek embroidery, and works by international contemporary artists.
The Cotsen Trust will also provide an endowment to support the development and coordination of programmes at the museum that emphasise research, scholarly projects and professional outreach related to the Textile Traces Study Collection, including conferences, visiting scholar lectures, research and publications. Lloyd Cotsen's widow, Margit Sperling Cotsen, says that 'The mission of the museum at the George Washington University aligns perfectly with Lloyd's vision to inspire interdisciplinary research and scholarship that focuses on textiles.'