Paris museum welcomes the Mysterious Cities of Gold
With museums around the world competing to find ever more imaginative ways to get new and younger audiences to visit their exhibitions, the Guimet in Paris has come up with treasure: its latest show celebtrates the '80s Japanese-French animated series The Mysterious Cities of Gold, along with its recent sequel series.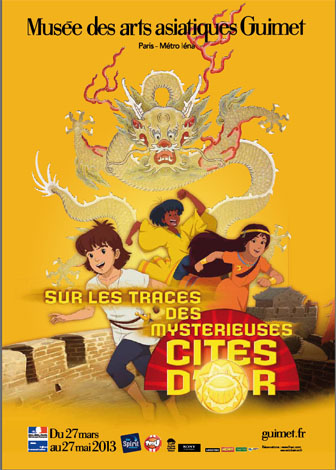 Set in 1532, the original series depicted the adventures of a Spanish boy named Esteban who travels to the New World in search of both his father and the Seven Cities of Gold. After a long break, further instalments have just been launched in France, taking the adventurers to 16th-century China.The museum has joined with the new show's production company to display about 80 items from the Guimet's collection.
The exhibition is split into the four themes of the show's plot line: minorities in China (specifically, the Miao and Yao peoples); the place of the dragon in the Chinese imagination; the Emperor, imperial power and the Forbidden City; and the Himalayan world, especially Tibet. The 80 objetcs in all media have been paired with clips from the series, and provide young visitors with an unusual and innovative way to understand 16th-century China. Connecting the real with the imaginary and the familiar with the unfamiliar, combined with a storyline that will be familiar across generations, is a formula most museums would be happy to have lit upon.
The exhibition will end on 28 May. For more information, visit: www.guimet.fr

Musée Guimet, Paris
Categories