Thomas Murray Online Exhibition: Sumbanese Textiles
A special exhibition of textiles from Sumba, curated by HALI contributing editor Thomas Murray and drawing from his extensive collection, is now online. This follows his summer presentation of antique Iban Dayak textiles from Borneo.
The latest selection includes hinggi and hanggi men's wraps and lau women's sarongs from East Sumba and West Sumba, all decorated with intricate ikat designs and dated to the 20th century; some are for sale. They are preceded by a description and photographic essay documenting the ritualistic funeral of Tamu Rambu Yuliana, Queen of Rindi, whom Murray first met in 1994 when he was travelling from village to village interviewing as many elderly queens as possible about the meaning of ikat motifs. He and his friend Joanne Leach were invited to her funeral in 2003–they share the photo credits.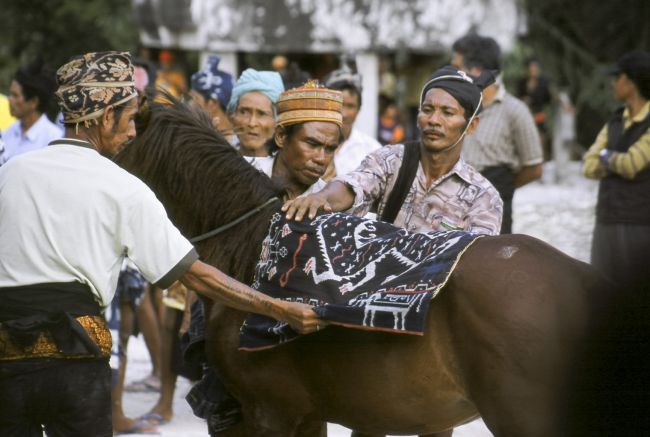 Textiles and animal sacrifice form an integral part of Sumbanese noble funeral rites. The earliest pieces in the exhibition were sourced mostly in Amsterdam in the early 1980s. They are shown alongside some more recent pieces sourced directly from the island.